The lightbulb moment that led to the creation of Lanuuk Swimwear for me was one sparked by moments scattered throughout the last couple of decades.  
Being a teen 
Growing up, consciousness of swimwear style choices (and of it being an awkward experience) came in my early teen years, when, by the age of 13, I was suddenly hyperaware of my changing body, how it compared to my friends and what type of swimsuits the other girls started wearing. Which swimsuit do I buy for my next weekend away at the beach? Everyone seems to be wearing bikinis now, I thought. But, no way… I'd be tormented by my family! It couldn't be a bikini, for sure. My choices in swimwear style when I was younger were never really influenced by modesty dictated by my Catholic upbringing, per se, but by being surrounded by my older sisters always making more modest choices in clothing. Higher necklines. Looser fitting tops and trousers. No sleeveless. And even no bathing suits in public if it can be avoided (at all costs!). So, I ended up going for what I considered a compromise between the two worlds and purchased a tankini, which is essentially a tank-top paired with bikini bottoms so that you're only baring a small portion of your belly.  
Then, whilst on a holiday with my friends, one of the girls said I should try one of her bikinis. Why not? Only my friends are here to see me. Little did I know that the feeling I had that first time wearing a bikini would be the same soul-baringly uncomfortable experience I'd feel every time thereafter. And even when it was a tankini or a one-piece swimsuit, it never felt quite right. I realized that my swimwear choices weren't necessarily going to be determined by society, or religion, or family. It was ultimately going to be determined by how that suit would make me feel when I wear it. Putting my body on display (just because I want to enjoy the water at the beach or the pool) was never a natural feeling. I needed a security blanket, but I never had one.  
It then took years to realize that there was nothing wrong or abnormal with how I was feeling about swimwear; there just weren't many alternatives. 
Becoming a mother 
Whilst I was always considered to be on the 'healthy' side of the body-type scale, I was blessed not to have been affected by body insecurities beyond the normal threshold that lingers within each of us. I wasn't as thin as the other girls, but I was comfortable with who I was. But that didn't mean that, again, I liked to show my body to the public in a bathing suit. Although, it was not a debilitating feeling that prevented me from just getting on with it and wearing my one-piece suits as I needed to throughout the years. Until…  
I became a mother, and my body changed drastically. I had the rolls, the dimples, the real and large 'post-baby bod' (as can, of course, be expected). Remember that inner confidence that I had all those years? It took a massive dive. After having a baby, you go through a plethora of life changes and, whilst your new body is the least of your worries, it becomes the most unavoidably large distraction that doesn't seem to shift. To make matters worse, getting back into exercise after two months post-birth meant that I needed to get back into a swimsuit (as swimming was going to be the kindest to my knee and pelvic joints that suffered miserably through pregnancy). Now, I say 'getting back into'…there was NO getting back into my old swimsuits.  
So, I went shopping in hope of finding a swimsuit that would give me an ounce of dignity back and make me look like even a fraction of my old self. It turned out to be a rather harrowing experience! After hours of exhausting all of my options, I came out of the department store with a mediocre rash guard and board shorts, where my usual lumps and bumps seemed to be even more accentuated. To add salt to the wound, I was accustomed to being a UK Medium (quick background: I had lived in London for the last 14 years of my adult life and only very recently moved back to Manila) but I was told by the sales assistant, and all the tags that I flipped in denial, that I was considered an XXL here in the Philippines….! I wasn't sure if I was more saddened or angered by the experience.  
Don't these local fashion companies realize that those 3 letters (X-X-L) alone have the power to dent a woman's confidence when it's a whole three sizes larger than what she's expecting? I realize that 'average' or 'medium' size is highly subjective based on the norms in each country. But should it be? Surely, I wasn't the only woman in the Philippines being miscategorized this way? Could it be that we have a much more diverse set of body types and style preferences that are yearning to be represented? Yes, of course! We come in all shapes and sizes, but representation in the media and the reflection of this in the shops remains low and borderline offensive! I needed a security blanket for getting out there in a swimsuit again, but I never had one.  
Same story after baby number 2. Same story after baby number 3. I needed a security blanket, but I never had one.  
Until now.
Lanuuk Swimwear is born 
In my own very small way, I wanted to be part of the solution. Not just for my own pain points but to bring an alternative to the mainstream. Bring awareness. Bring the conversation forward. Bring choice. Bring even just an ounce of confidence to my fellow women looking for a little boost. So, I got to work and began designing; and I can't quite believe that those designs can now be shared with the world.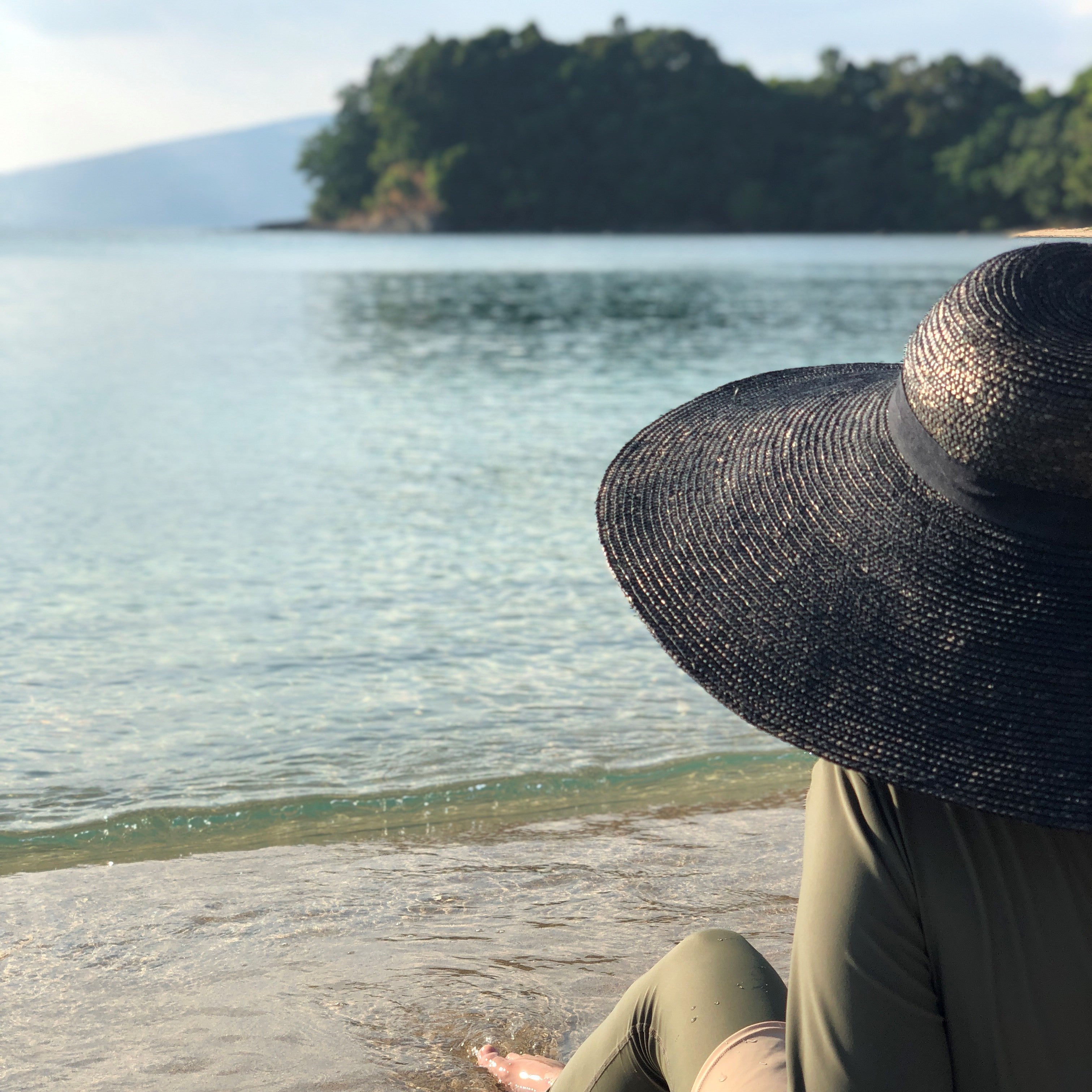 burkini
Making Waves in Modest Swimwear
Gaya magazine's summer 2019 issue features emerging modest swimwear brands, including Lanuuk, who aim to empower women to choose how they want to dress and feel confident in their own skin.
Read more