Wear your sunscreen - literally!
Our UK summer is over and we're already dreaming of a winter beach holiday. This is the first summer that we've been able to share our Lanuuk swimwear with the world and one of the questions we get asked most frequently by our customers includes; what is UPF50+ fabric and how does this protect me from the sun?
So it got us thinking; how many of you really know about sun care and sun safety?
The focus on protecting your skin from the sun's harmful rays has generally been on using a high factor SPF sunscreen. The sun protection factor (SPF) tells you how long the sun's UV radiation would take to redden your skin when using the product exactly as directed versus the amount of time without any sunscreen. So ideally, with SPF30 it would take you 30 times longer to burn than if you weren't wearing sunscreen.
This is of course extremely important, but sunscreen is just one vital part of an overall strategy to protect your skin. Do we actually consider the clothes and swimwear that we wear and how effective these are in protecting our skin? Whilst your clothing shields you from the sun, not all fabrics and colours provide equal protection. When shopping for swimwear that can effectively protect you from harmful rays, keep in mind the fabric's UPF (Ultraviolet Protection Factor) rating which indicates exactly how much of the sun's rays the garment can shield.
Our very talented customer Dr Yusra Al-Mukhtar shares her top tips on sun safety. Dr Yusra is a dental surgeon and a medical aesthetic clinician.  She is an advanced experienced facial aesthetic practitioner with several years' experience in head and neck surgery and skin cancer surgery. Here are her top 3 tips on staying safe in the sun:
1. Mineral SPF50 ALL over exposed areas with UVA, UVB & Infra red protection. Not all SPFs are created equal and many are chemical SPFs reliant on a chemical reaction to provide adequate protection, and those chemicals are absorbed into the body. Chemical SPFs are cheap and found in most over the counter SPFs. Avoid those. I go for mineral SPF either

 

Obagi SPF50 matte

 

or

 

Heliocare 360

 

for the highest level protection. Top up every 2 hours when in the sun!
2. Wear a wide brimmed hat. We now know that direct sunlight but even heat can stimulate pigment producing cells to go into overdrive and cause sun damage. Protect your face with a wide brimmed hat to stop the rays from hitting your face.
3. I am loving my Lanuuk UK swimsuit

 

and wore it throughout my holiday whilst out in the sun knowing that it provided me with UPF50 sun protection. Both SPF and UPF ratings

 

measure the level of protection from the sun's harmful rays

 

that cause free radical damage to the skin resulting in premature ageing, wrinkles and pigmentation. We know that 90% of premature ageing comes from the sun and I always recommend to my patients to wear an SPF 30-50 every day, whether it's grey skies or sunny summer days. But also remember to consider whether your clothing and swimwear provides effective sun protection, especially when out under the intense summer sun. This UPF50+ swimsuit blocks 98% of the sun's rays and reduces your exposure risk significantly. I have actually never found or worn a swim suit like this before, covering up with style and elegance in sheer quality produced workmanship.

For us, sun protection was one of our top priorities in choosing the fabrics to create our swimwear. We want to give our customers the confidence to know that they are protected when out enjoying the sun.
Our swim turbans also provide effective sun protection for your hair - yes, your hair needs sun protection too! If you don't protect your hair, the sun can actually shift your hair colour and change your hair texture by drying it out. If you don't cover your hair, consider a sun screen especially designed for protecting the hair.
We're passionate about giving women more choice and are working on a range of accessories to compliment your Lanuuk swimsuits:
1. Different styles of head cover - we've been developing the fit and comfort of our current swim turbans but are also working hard on creating other versatile head coverings including a self tie swim turban and a swim hijab.
2. Wide brimmed hats - The hat is the perfect accessory and you'll often see us styling our Lanuuk swimsuits with a wide brimmed hat. We're working on incorporating a couple of classic but fabulous hats into our collection.
As always, our focus is on creating an amazing experience for our customers. Watch this space for so much more to come!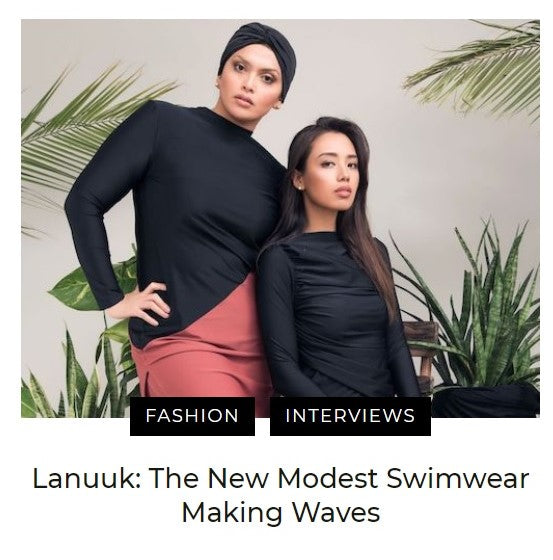 Lanuuk interview with Almaze Women
Read our interview feature from Paris based digital modest fashion magazine and online marketplace, Almaze to find out more about the inspiration behind our brand, our ethos and what modest fashion...
Read more